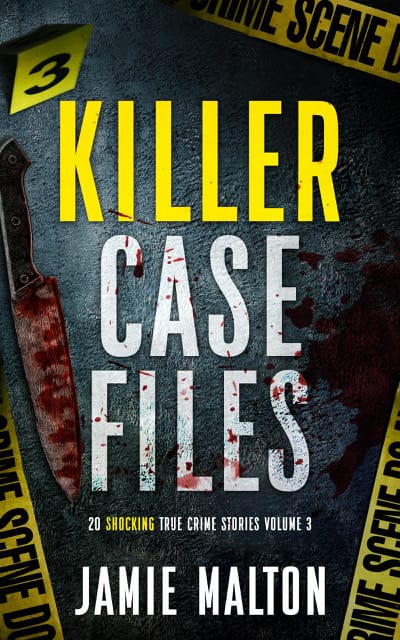 KILLER CASE FILES – VOLUME 3

BONUS CHAPTER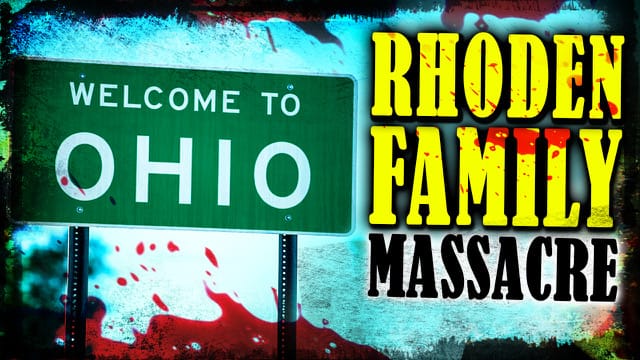 Thanks for being one of my readers!
Jamie
Rhoden Family Massacre

"I've been a judge, a prosecutor, and a criminal defense lawyer, and [this case] is without question the most complex criminal case I've seen in my close to 40-year-career." 
Mike Allen, Cincinnati Defense Attorney
Located in the heart of rural Ohio, Pike County is known for its small and tight-knit community – the kind where everyone knows each other. Because of this, the news that an entire family had been massacred in their own beds didn't take long to spread.
The authorities initially suspected Bobby Jo Manley – the first person to sound the alarm about the murders. But five years later – and after 550 interviews, visits to ten states, and a 6,000-mile round-trip to Alaska – they've finally identified the real killers.
With trials still yet to occur, the end is finally in sight for a perplexing and riveting crime that shocked rural America.
This is one of the grisliest and most violent crimes that Ohio has ever seen. Its aftermath is still playing out, with two of the alleged killers scheduled to go on trial in the next few months.
Time will only tell what other truths about the case will be revealed then.
The Crime
Just before 8 a.m. on April 22, 2016, the authorities in Pike County, Ohio received a call from a woman named Bobby Jo Manley, who had stumbled upon the dead bodies of her brother-in-law, 40-year-old Christopher Rhoden, [Senior]. and his cousin, 38-year-old Gary Rhoden. She had dropped by their trailer on Union Hill Road to feed their pets and came across their bullet-riddled corpses.
Manley may have originally called the police to report two dead bodies but by 4 p.m. that afternoon, a total of eight had been found. They were eventually identified as 44-year-old Kenneth Rhoden, Christopher Senior's brother, and his ex-wife, 37-year-old Dana, who was Manley's sister. Their three children, 20-year-old Franke, 19-year-old Hanna, and 16-year-old Christopher Junior were among the dead too.
Frankie's body was discovered alongside his fiancée, 20-year-old Hannah Giley. Between them lay their six-month-old son, who – fortunately – was unharmed. His three-year-old son was safe too and had actually been the one to open the door for Manley.
Hanna Rhoden's newborn daughter, Kylie, was unharmed, as well, with the police finding her still in bed with her dead mother.
Every member of the Rhoden family who died that day had been shot. It was said that Kenneth had it the cleanest, with his head sporting a single bullet wound.
After all eight bodies were recovered, the authorities blocked off the entire Union Hill Road, which was described as "…a sprawling collection of junkers and heavy equipment; a huge metal barn; some farm animals, and dogs.
News of the murders quickly spread across the community, with local newspapers labeling it the Pike County Murders and the Rhoden Family Massacre.
Some people took to deriding the victims – according to the online magazine, The Outline, "Outsiders swooped in long enough to describe folks as people who 'idly smoked cigarettes,' or dressed in camo, with funny ways of 'lookin' or 'talkin.' The rural poverty, crime, and general misery served as a perfect backdrop for a stereotype. This was the biggest thing to happen to people outside the area since forever."
Two days after the bodies were discovered, the authorities announced that marijuana grow operations had been found at three of the four crime scenes, although they decided against specifying which ones. Shortly afterward, the Hamilton County Coroner's Office released its preliminary results, which stated that all but one of the victims was shot multiple times. One even suffered a total of nine bullet wounds.
Killed by an Acquaintance?
From the get-go, Bobby Jo Manley and her father, Leonard, believed that the massacre had been committed by someone the Rhodens knew. They pointed out that the family had owned several dogs, which – they claimed – would have eaten up strangers. Because of this, they believed that someone in the community was involved in the grisly crime.
The authorities believed this, as well, and questioned the Manleys repeatedly, even going so far as to seize their phones, clothing, and cars. Most of their efforts were concentrated on Bobby Jo, who was forced to undergo several polygraph tests. However, her father was adamant that she was incapable of committing the murders, mainly because her main source of income was the Rhodens, who paid her to take care of their animals.
Leonard Manley told the authorities, "If I thought she did this, she wouldn't be alive. If she killed my family, she ain't no better than anyone else. I mean, that's hard to say. But then people gave her cars, gave her money, gave her a place to live. I mean, who would kill the people who gave you a golden egg every time you needed it?
Apart from investigating the Manleys, the authorities also considered the possibility that more than one shooter was responsible for the massacre. This seemed likely since two of the four crime scenes were located miles away from the others. The massacre also seemed like a sophisticated operation, with the perpetrators covering their tracks and leaving no incriminating evidence behind.
Before long, the task force responsible for investigating the massacre had grown to over a hundred members, with sheriffs from 25 different offices across the state pledging to provide additional resources. A few officials from the FBI and the Drug Enforcement Administration also joined, giving their technical expertise to the case's main detectives.
Despite the large size of the task force, the next few months saw them making no major breakthroughs in the case. In May 2017, they decided to search a 71-acre farm in the village of Peebles, near where the Rhodens lived. It had once been owned by Jake Wagner, Hanna Rhoden's former boyfriend and the father of her three-year-old daughter, Sophia. A property belonging to his family was also searched; however, no specifics were disclosed to the public.
The following month, Ohio Attorney General Mike DeWine and Pike County Sheriff Charlie Reader issued a public plea, asking residents for information on the Wagner family. While they weren't officially named suspects in the case, rumors soon began to fly that they had been involved in the massacre.
The Wagner family consisted of 47-year-old Billy, his wife, 48-year-old Angela, and their sons – 27-year-old George and 26-year-old Edward, who preferred going by his nickname Jake. By the time the public appeal for information on them was issued, they had already relocated to the Kenai Peninsula in Alaska – a mountainous region roughly half the size of Ohio.
When asked by reporters, Jake claimed that they had moved to Alaska to give his daughter, Sophia, a better environment – one without neighbors constantly gossiping about them. He and his ex-girlfriend, Hanna Rhoden, had solidified a custody agreement in court in 2016, shortly before she was murdered. According to him, the proceedings were amicable; however, several of his family members alleged that the battle over Sophia had been contentious.
Despite the Wagners relocating to Alaska, the authorities – particularly Pike County Prosecutor Rob Junk remained fixated on them. Detectives spent the next few months painstakingly collecting evidence against the family – a process that they only completed in October 2018, more than two years after the massacre.
But their efforts ultimately paid off. On November 13, 2018, all four members of the Wagner family were taken into custody and charged with aggravated murder with death penalty specifications. Two of their relatives – Angela's mother, Rita Newcomb, and Billy's mother, Fredericka Wagner, were also arrested and accused of covering up the massacre.
All of them pled not guilty to their charges.
Making a Case
Prosecutors alleged that the Wagners had killed the Rhodens in a bid to obtain sole custody of Sophia, who – at the time – was still a toddler.
According to The Washington Post, Special Prosecutor Angela Canepa has portrayed the Wagners as an insular family that lived together their entire lives, worked together, were home-schooled together, commingled their money, and voted as a group on everything, including the decision to kill Hanna Rhoden, the mother of Jake Wagner's young daughter, and seven of her family members. Canepa has painted the family as controlling to the point of violence toward anyone – notably the three women involved with the two Wagner sons – who threatened to disrupt the family's intimate bond.
The indictment against the Wagners stated that Angela had hacked into social media accounts belonging to the Rhodens, which led her to discover private Facebook messages between Hanna Rhoden and George's former mother-in-law. In one of them, Hanna said that she would have to be killed before she would ever relinquish custody of her daughter, Sophia.
Angered by Hanna's words, Angela allegedly called for a family vote on whether they would murder her and the rest of the Rhodens. After coming to an agreement, she, her husband, and their sons spent about four months methodically planning the massacre to guarantee that Jake would be granted full custody of then-two-year-old Sophia.
Special Prosecutor Canepa alleged that the family's plan involved buying new athletic shoes from Walmart, which George and Jake wore on the night of the massacre. These left bloody footprints at one of the crime scenes, which were eventually traced back to them.
The family also bought a new truck, which they agreed would only be used that night to prevent the authorities from figuring out their involvement in the massacre. Both George and Jake spent weeks practicing how to fire weapons too, with the prosecution alleging that they had been testing whether the shots could be heard.
Perhaps it was these experiments that led to Jake buying a silencer, as well as parts to build silencers, in March 2016 – a mere month before the horrific murders took place.
The Wagners vehemently denied all these allegations, even claiming that they wanted nothing more than for the authorities to arrest the real killers. According to them, they and the Rhodens had been close friends, with Angela even saying that she considered Hanna as her own daughter.
The family maintained their innocence for years – that is, until 2021, on the fifth anniversary of the massacre. In a courtroom in Pike County, Jake Wagner stood up and admitted to the judge that he had killed five of the eight victims. In exchange for his confession, prosecutors took the death penalty off the table.
In its report of this shocking development, The Columbus Dispatch stated, "I am guilty, your honor," he finally said. By the day's end, he had pleaded guilty to all 23 charges originally filed against him for what investigators said was an elaborate and long-planned execution plot to get rid of anyone who might stand in the way of custody and control of Jake Wagner's child.
Five months later,  most of the charges against Jake's mother, Angela, were dropped, with prosecutors saying that she had been at home with two of her grandchildren at the time the murders were being committed. However, she was still sentenced to 30 years in prison after pleading guilty to 14 lesser charges.
In admitting her role in the massacre, Angela confessed that she was fully aware of her son's plans and even purchased several items to help him carry them out. This included phone jammers, which would have prevented the members of the Rhoden family from calling for help. She also forged custody documents to ensure that he would be granted custody of Sophia after the deed was done.
Her younger son, Jake, on the other hand, was given eight consecutive life terms without the possibility of parole. As part of his agreement, he agreed to testify against his brother and father, whom prosecutors claim were present on the night of the murders.
Unlike Angela and Jake, the remaining Wagners have maintained their not-guilty pleas. Billy, the family's patriarch, was scheduled to go on trial in October, 2022 but given the lengthy jury selection process, the authorities don't expect it to begin until early 2023.
According to Oxygen True Crime, Jake – apart from agreeing to testify against his family – also, "…gave prosecutors a full account of the killings and led them to evidence investigators had not previously discovered. With his help, authorities were able to recover the guns used in the killings and the vehicles the family drove that night.
While Jake's confession sent shock waves across Pike County, many in the community were relieved that the Rhoden Family Massacre was finally solved. The authorities even hoped that it would encourage residents to have a little more faith in the justice system.
Former prosecutor Beth Karas said, "I hope that this plea is the beginning of giving the community, and certainly the Rhoden family, some sense of justice. There is never closure when you lose eight members of one family in the same day but you get some sense of justice."
There are, however, a few questions that still remain. For instance – what exactly were the roles that Billy and George Wagner played in the massacre? The defense claims that Jake's father shouldn't be facing murder charges since he neither shot nor killed anybody but the prosecution maintains that even if that were the case, he could still be charged with conspiracy to commit murder.
Jury selection for Billy's upcoming trial was scheduled to begin in late August, 2022. It's a certainty that more shocking details about the massacre will soon be forthcoming.