KILLER CASE FILES – VOLUME 2

BONUS CHAPTER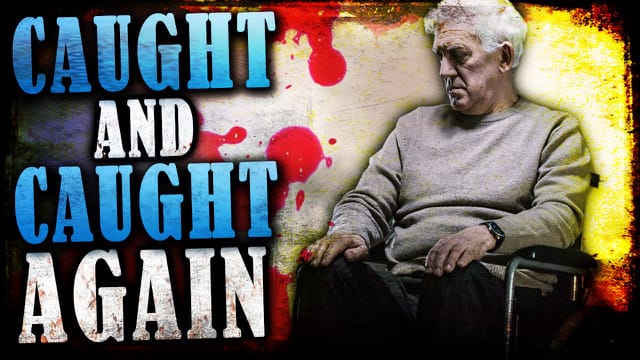 Thanks for being one of my readers!
Jamie
Caught and Caught Again

"They'd never met anything like me before, this guy with piles of money and terrible manners. I used to feed the dog while I was sitting at the table. I used to talk about making love to Kathie at the dining-room table in front of her mother."
– Robert Durst
It was the evening of January 31, 1982, and Gilberte Najamy was hosting a party at her home in Connecticut, belatedly celebrating the start of the new year. Her good friend, Kathie McCormack, arrived unexpectedly, seemingly upset.
But before the two could talk, Kathie was forced to leave the party after receiving an angry phone call from her estranged husband, Robert Durst.
As she said goodbye to Kathie, Gilberte never imagined that it would be the last time they would see each other. Nor did she think that questions about her friend would continue to haunt her more than thirty years later.
The Estranged Husband
Born into a Jewish family on April 12, 1943, Robert Durst was the eldest of four children – the son of a real-estate magnate named Seymour Durst and his wife, Bernice Herstein. Their vast fortune was mostly thanks to the family company, Durst Organization, which Robert's grandfather, Joseph, had founded in the early 20th century shortly after emigrating from Austria-Hungary.
Robert grew up in their family's large home in Scarsdale, New York but despite these lavish surroundings, his early childhood years were marked by several traumatic experiences. When he was seven, his mother tragically died after falling from the roof – an accident that Durst would later claim he had witnessed, despite his siblings saying otherwise.
He and his younger brother, Douglas, were also made to undergo counseling for sibling rivalry. A psychiatrist's report from this time noted that then-ten-year-old Robert Durst exhibited personality decomposition and possibly even schizophrenia.
Robert was introverted and preferred to keep to himself, with his classmates at Scarsdale High School describing him as a loner. This changed in college. At Lehigh University in Pennsylvania, he played on the varsity lacrosse team and was part of the student newspaper before graduating in 1965 with a degree in economics.
Durst initially didn't plan on inheriting the family business. In the early 1970s, he moved to Vermont where he opened a small health-food store called All Good Things. But in 1973, his father convinced him to return home to work for the Durst Organization, so he might someday take control of it.
This never came to be, though. It was said that Durst repeatedly exhibited inappropriate behavior, which made his father think twice about handing over the reins to him. In 1992, he instead named his younger son, Douglas, the next leader of Durst Organization, which, unsurprisingly, angered Robert.
Robert felt he was entitled to the company and his father's decision created a rift between the brothers. Robert sued for his share of the family fortune and was bought out of the family trust in 2006 for sixty-five million dollars.
At the time of the buy-out, there were already allegations that Robert was involved in several murders. However, it would take nearly two decades before the truth behind those accusations was revealed.
The Failed Marriage
In April 1973, Durst married a dental hygienist named Kathleen McCormack, whom he had met before moving to Vermont. The marriage didn't last long, though – by 1980, the couple had separated and Robert was dating Prudence Farrow – the woman featured in the hit song, Dear Prudence by The Beatles.
On the evening of January 31, 1982, Kathleen – or Kathie, as she preferred to be called – showed up uninvited at the party hosted by her friend Gilberte Najamy in Newtown, Connecticut. She left after only a few hours because of an angry phone call from her estranged husband, Robert Durst.
Gilberte Najamy would later recall, "She came to the house, she was visibly upset. Things were not going well that weekend. She made phone calls back and forth to Bob; Bob would call the house, 'I want you home now.' She didn't want to go. The last conversation I had with Kathie was a very powerful conversation and as she was leaving my house, she turned to me and said, 'Gilberta, promise me if something happens to me, you'll check it out. I'm afraid of what Bobby might do.'"
That was the last time that Gilberte Najamy saw her friend.
Officially Missing
Five days later, Kathie was reported missing after she failed to show up at a pub where she and Gilberte had planned to meet. From the get-go, the police were suspicious of Durst, who claimed that he had last seen her on the night of the party. He said that they had fought when she arrived at their cottage in Salem, New York, which led to her asking to be driven to the train station, where she took a train back to Manhattan. According to Durst, he never heard from Kathie after that.
Despite the best efforts of the police, no trace of Kathie was ever found. Eight years after she disappeared, Durst divorced her, citing spousal abandonment. In 2016, her family requested she be declared legally dead, which the authorities did the following year.
The McCormack family never stopped believing that Kathie was murdered by her estranged husband. In a recent interview, her older brother, Jim, cited the domestic violence they witnessed, claiming that he had once seen Durst pulling Kathie's hair when he wanted to leave a party and she didn't. Their mother, Ann, also tried suing Durst for a hundred million dollars, saying that he had deprived them of the right to bury Kathie; however, her lawsuit went nowhere.
Later, the authorities would admit their investigation had been affected by their inability to link abusive behavior with the crime. According to Mimi Rocah, the Westchester District Attorney, "At the time that this alleged homicide occurred, we did not have the same understanding of domestic violence and how that kind of abuse could play into relationships and how it could, frankly, color law enforcement. By that, I mean police and prosecutors' perspectives on what happened and how they investigate a crime."
In November 2000, the New York State Police announced that they had reopened their investigation into Kathie's disappearance. Durst already knew about this, though, having been tipped off by his younger sister, Wendy. The news had led him to go into hiding. In late October, he moved to Galveston, Texas, where he disguised himself as a disabled woman to avoid the police.
A Related Murder
The following month – on December 24, 2000 – a friend of Durst's named Susan Berman was found murdered in her home in Los Angeles, California. She had been shot in the back of her head, execution-style.
Susan Berman was the daughter of David Berman, the notorious gangster who – along with mobster Bugsy Siegel – ran the Flamingo Hotel and Casino in Las Vegas. She and Durst were close – in 1984, he gave her away at her wedding and she had provided him an alibi when he was being investigated for Kathie's disappearance.
Because of this, Susan's family didn't believe that Durst could be involved in her murder. However, unbeknownst to them, Susan had called Durst shortly before her body was found to tell him that the authorities were looking to question her about Kathie's disappearance.
This information has led many – including Berman's biographer, Cathy Scott – to theorize that Durst killed Susan before she could talk to the police.
The investigation into Kathie's disappearance and Susan's murder continued until well into the following year but sadly, the authorities were unable to collect any valid leads. That is, until October 9, 2001, when Durst was arrested in Texas after the dismembered body parts of his neighbor, 71-year-old Morris Black, were found floating in Galveston Bay.
Another Murder
Durst was charged with the murder of Morris Black; however, he claimed that he had only done so because he was defending himself. He failed to show up to his court hearing on October 16, which led to the police hunting him down. A few weeks later, on November 30, he was re-arrested in Bethlehem, Pennsylvania after he tried to shoplift from a Wegmans supermarket.
In 2003, Durst was put on trial for murdering Morris Black. He was represented by the renowned defense attorney, Dick DeGuerin, who presented evidence that Durst had Asperger's Disorder, which explained why he had killed his elderly neighbor in self-defense.
On the stand, Durst admitted that he used a paring knife, two saws, and an ax to dismember Black's body. However, he claimed that the elderly man had been confrontational and had threatened him with a pistol. When he tried to grab it, the gun suddenly discharged, shooting Black directly in the face.
Black's head was never recovered from Galveston Bay, which meant that the prosecution was unable to provide any forensic evidence to dispute Durst's claims of self-defense. Because of this, Durst was acquitted of all his murder charges.
More than a year later – on December 21, 2004, Durst was again charged – this time with two counts of bail jumping and one count of evidence tampering, the latter of which was related to the murder of Morris Black. As part of a plea bargain, he pled guilty to both in exchange for a five-year prison sentence. He ended up receiving credit for time served, which was why he only spent three years behind bars.
Vanity and Self Incrimination
Durst could have gotten away with his horrific crimes had it not been for his greed and thirst for fame. In 2010, a film called All Good Things, which was loosely based on his life story, hit theaters, earning over 600,000 dollars at the box office. Starring Ryan Gosling and Kirsten Dunst, it followed a man named David Marks, the son of a powerful real-estate tycoon who becomes involved in a series of murders, as well as in the mysterious disappearance of his wife, Katie McCarthy.
Durst loved it so much that he reached out to its director, Andrew Jarecki, and agreed to record commentary for the film's DVD release. The results were incredibly disturbing.
As entertainment website Vulture noted, "Probably the weirdest thing about the commentary is how much Durst endorses Jarecki's portrayal of him – whether yanking his wife from a party by the hair or dismembering his buddy – and how little emotion he displays as he agrees that, 'This is more or less accurate.'"
For instance, when a scene based on Morris Black's death and dismemberment was playing out on the screen, Durst said, "I remember it very, very, very clearly, and I remember the nightmare I went through over the next several days trying to decide what to do, deciding I could not go to the police, the police aren't going to believe this, nobody's going to believe that I came down here to Galveston a rich guy, rented a 300-dollar-a-night apartment disguised as a woman and, oh, by the way, my neighbor is lying in my kitchen with a shot in the face from my gun… "
He went on to say, "They never found the head. I have no idea why. I do know that there must have been 15 garbage bags full of body parts and other stuff with blood on it or whatever, and they found 12. Why they didn't find the other ones, since they were all dumped in the same place, I have no idea."
In early 2015, Andrew Jarecki released another movie based on Durst's life. This time, it was a six-part documentary on HBO titled The Jinx: The Life and Deaths of Robert Durst. It explored the circumstantial evidence linking him to the murder of Susan Berman and featured explosive interviews with Durst himself, who had agreed to be filmed.
On March 15, 2015 – the same day the show's final episode was broadcast – FBI agents arrived in New Orleans and arrested Durst. Later, it was reported by the Associated Press that Susan Berman's stepson had discovered a letter sent to her by Durst sometime in March 1999.
He turned it over to the documentary's filmmakers, who, in turn, handed it over to the authorities after realizing that it contained new evidence about her murder. The letter then became the basis of the murder charges filed against Durst.
ABC News also noted, "In the HBO series, Durst appeared to have admitted to the killings of Berman and his wife, and was heard on audio tape saying that he 'killed them all, of course.' The audio recording was captured on a microphone he was wearing while he was in the bathroom. The filmmakers said they didn't discover the audio [until] years after it was recorded."
Durst's murder trial was originally set to begin on March 2, 2020, but because of the COVID-19 pandemic, it was rescheduled for the following year. A few days before it started, his defense team filed a motion to have him released on bail – and the trial postponed indefinitely – so that he could receive medical treatment for his bladder cancer; however, their request was denied by the court.
The trial saw Durst suffering from one medical crisis after another, which resulted in so many delays that his critics began claiming that he was faking his illnesses to be granted a mistrial. But ultimately – on September 17, 2021 – the jury found him guilty of murdering Susan Berman. His defense team tried to appeal but despite their best efforts, he was sentenced to life imprisonment without the possibility of parole.
Surprisingly, Durst's conviction led to the authorities investigating him for possibly being involved in several other cold cases – including the disappearances of 18-year-old Lynne Schulze, 16-year-old Karen Mitchell, and 18-year-old Kristen Modafferi.
Shortly after Durst's sentencing in October 2021, more charges were filed against him – this time for the disappearance of his first wife, Kathie McCormack. But before his trial could begin, he was rushed to the San Joaquin General Hospital in Stockton, California, where, on January 10, 2022, he died of cardiac arrest, aged 78.
Convicted of one murder, admitted to killing an elderly neighbor, last person to see his estranged wife, and a suspect in at least three other unsolved murders. Clearly, nearly seventy years earlier, more weight should have been given to his psychiatrist's opinion that little Robert Durst showed evidence of "personality decomposition and possibly even schizophrenia" at age ten.