KILLER CASE FILES – VOLUME 7

BONUS CHAPTER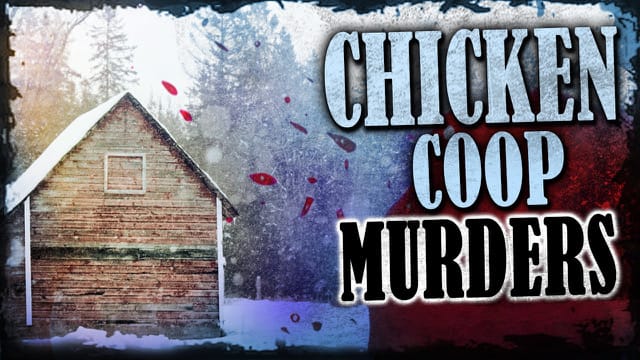 Thanks for being one of my readers!
Jamie
Wineville Chicken Coop Murders
"Better the devil you know than the devil you don't."
Gordon Northcott
Following his birth in Bladworth, Canada, Gordon Stuart Northcott's family moved to British Columbia. While Sarah Louise, Gordon's mother, did experience postpartum depression after giving birth to Gordon, his parents deeply loved him. She initially struggled to bond with her newborn son, but over time her relationship with him blossomed, and she grew to love him more than anything else
When growing up Gordon had plenty of friends and was a likable person. He was handsome and personable, and people enjoyed his company. Gordon began playing the piano during his late teens and grew fond of classical music. Gordon played piano at local venues for money.
After Gordon graduated from high school, everyone assumed he would pursue his passion for playing the piano. Gordon's parents thought moving to Los Angeles was the perfect opportunity for their son. His parents knew he was nontraditional; he wore women's bright clothing, and they believed he would do better in L.A. In light of Gordon's talent for playing music, his parents figured he would find success in the entertainment industry in Hollywood.
Raising Chickens
Gordon shocked everyone by saying he wanted to raise chickens on a farm in California instead of playing music. His parents were surprised by their son's desire. They had never seen their son do laborious work. However, Gordon reassured his parents that raising chickens was his dream, and he wanted this opportunity more than anything else. Sarah Louise and her husband bought land in Wineville, California, to give her son the opportunity he wanted.
To build their ranch house in Winveville, Gordon and his father sought the help of his 13-year-old nephew Sanford Clarke who lived in Canada. Sanford's mother sent her son to help his uncle in the Wineville in 1928. Sanford's mother was becoming increasingly irritated with him because he could not find work, he and she often clashed, and she was looking for an escape. She was also confident that working on a farm would be a valuable experience for her son and a way to teach him discipline.
After helping his uncle Gordon finish the Wineville home, Sanford returned to Canada. However, Gordon soon called his mother to ask for her to return Sanford to Wineville. He explained that his father had moved to the city and that he wanted to avoid taking care of the farm by himself.
Sanford protested returning, but his mother said he had no choice. Even Sanford's older sister Jessie didn't want him to live with their Uncle Gordon again, but their mother sent him on the train back to Wineville regardless. As an illegal immigrant living in the United States, Sanford hoped he wouldn't have to stay too long.
Nephew as Victim
Upon Sanford's return to Wineville, Gordon instructed his nephew to complete chores on the farm and inside the house. Each day, Sanford swept the chicken coops and cooked dinner for himself and Gordon, hoping he would soon be home. In time, Sanford's stay at the farm grew from days to weeks to months. Finally, one night his uncle Gordon showed him the true reason he wanted him back.
One evening while Sanford was asleep, Gordon woke up his nephew. He led Sanford to one of the chicken coops outside the house. While inside the chicken coop, Gordon brutally attacked his nephew. He screamed and fought his uncle, but the more he struggled, the more violent the assault became.
After Gordon beat Sanford, he locked him in the chicken coop overnight. Gordon beat Sanford nightly after his first attack in the chicken coop. Aside from using his fists, Gordon sometimes used objects, such as tools and wooden posts, during the brutal assaults.
When Gordon couldn't satisfy his depraved needs with physical abuse, he began sexually abusing his nephew. Gordon started to brainwash his vulnerable nephew. He told Sanford, "Better the devil you know than the devil you don't." Sanford began to believe his uncle was right. Apart from the nightly assaults, Sanford also cleaned the house and cooked for Gordon, serving as his uncle's slave. All Sanford ever ate were Gordon's leftovers. If Gordon ate his entire dinner, Sanford would have to sleep hungry.
Gordon used to provoke Sanford into beating him then Gordon subjected the teen to a relentless assault. As an illegal immigrant and an impressionable child, Gordon convinced Sanford he would be sent to the gallows if U.S. authorities apprehended him. He then threatened to turn Sanford in if he tried to escape.
As a way of pretending everything was okay, Gordon forced Sanford to mail letters home to Canada. Gordon dictated what Sanford should write, so the messages always arrived in his handwriting. He told Sanford to write about how much fun he had living in California and tell his family that he was in school. Although it wasn't true, Gordon didn't want Sanford's mother to send him back to Canada for any reason.
One night after Gordon assaulted Sanford; he left the chicken coop door unlocked. When Sanford noticed, he attempted to crawl to safety but barely made it out of the coop. He was physically and mentally exhausted. Instead, he turned around and crawled back to Gordon's ranch house. Upon entering the home, Sanford passed out on the couch. The following morning Gordon woke Sanford up by pouring boiling water over his entire body. Gordon revealed that he had intentionally left the chicken coop unlocked to test if Sanford would flee, which he did.
Sanford had been living on Gordon's ranch in Wineville for about a year when he turned fourteen. Then his uncle began ignoring him in favor of younger boys. In January 1928, Gordon left the ranch for a week. Although he left his nephew's home alone, he knew he had broken Sanford's will and that the teenager would not try to escape.
More Victims
Gordon returned from his trip in good spirits, which concerned Sanford as he had only seen him in foul moods. Sanford walked to the car where Gordon was standing with a bucket. He told Sanford to look inside the bucket, and when he did, Sanford became sick. The bucket contained a decapitated human head of a young boy. Gordon then opened the trunk of his vehicle and showed Sanford the rest of the boy's body which was wrapped in a bloody sheet. Gordon said he committed the murder in self-defense.
Sanford was given the bucket and instructed to burn the boy's head. The boy's body was disposed of the next day. A week later, Gordon and Sanford drove to his parent's home. Sarah Louise was overjoyed to see her son. Her attention was captivated by his every word. She believed that everything he did and said was true.
Because Gordon had such faith in his mother's love, he confessed to her that he had killed someone. Sarah Louise praised her son after he told her the murder was self-defense. She emphasized to Gordon how proud she was of him and how courageous he was. Within a month of Gordon and Sanford returning from visiting Sarah a young boy from Los Angeles named Walter Collins disappeared.
The Missing Child
On March 10, 1928, Christine Collins gave her son Walter some change so he could see a movie in Los Angeles. Christine regularly allowed her 9-year-old son to walk to the theater alone. It was something he frequently did. Before departing, Walter waved goodbye to his mother in the kitchen. He wore a brown jacket, corduroy pants, and a gray hat. As Christine Collins said goodbye to her little boy, she had no idea she would never see him again.
After Walter failed to return home, Christine contacted the Los Angeles Police Department to report him missing. The LAPD took missing children reports seriously at the time, and Walter's disappearance made newspaper headlines immediately. Just months before Walter disappeared, Marion Parker, a 12-year-old girl, was kidnapped for ransom and murdered. After Marion's murder, Los Angeles residents were angry about the police department's handling of the young girl's case. The LAPD had a poor reputation when Walter Collins vanished, and they knew they had to find him quickly before they were criticized again.
JJ Jones, Captain of the LAPD, was desperate to find Walter alive and followed up on every tip he received. However, the leads were fruitless. Walter Collin's case quickly turned cold, with no information about his whereabouts or evidence indicating what happened to him.
However, a child who resembled Walter had been found in a small Illinois town several weeks after the boy vanished in Los Angeles. The child was malnourished and told Illinois police that he had been kidnapped. To confirm the boy's identity, Christine exchanged letters with him. To find out if the boy she was corresponding with was her son, Christine paid what would be equivalent to $1,000 in today's money to transport the boy from Illinois to California. Captain JJ Jones closed the case once the child arrived from Illinois, and the press hailed the LAPD as heroes. Everything seemed fine during the first few days after Christine Collins and Walter had returned home. Then everything spiraled out of control.
Christine Collins returned to the police department with the little boy and told Captain JJ Jones he was not her son. Captain JJ Jones insisted the child was Walter Collins, her son. However, Christine was adamant in her claims that the little boy was not her son. She said that the child resembled her son Walter, but they also had many differences. Christine's claims about Walter's appearance were dismissed by the captain, who said it was natural for a child's appearance to change over time.
According to Christine, the little boy didn't behave like Walter. Walter always referred to Christine as 'mother,' but this boy called her 'ma.' However, police dismissed Christine's claims. Captain JJ Jones was not about to embarrass the LAPD with another failure by admitting he may be wrong. Instead, the police captain spoke to the media and claimed Christine was trying to embarrass the LAPD. Friends and family members testified that the little boy wasn't Walter Collins, and Christine obtained records from her son's dental office and compared them with the child in her care.
The LAPD stood by their claim. To prove that he was Christine's son, they conducted tests. "Walter" was once dropped off at a random location by LAPD officers, and the child found his way home easily, proving to Captain JJ Jones that the child was Christine Collin's son. Christine and Walter's dog also showed a friendly response to the child, another indication to the LAPD that the child was who he claimed to be.
Officers from the LAPD also questioned why Christine waited so long before saying the child wasn't Walter. Many people speculated that Christine was in denial and desperately wanted to believe this boy was her son but eventually, she couldn't lie to herself any longer. Ultimately, Christine Collins became too much trouble for Captain JJ Jones, so he put her in a psychiatric ward in Los Angeles under a law known as Code 12.
Under Code 12, law enforcement could send anyone they deemed difficult to a psychiatric ward. Christine Collins remained hospitalized under harsh conditions. Her treatment was inhumane, and she suffered numerous forms of torture. Doctors forced Christine to take the medication, hoping she would come to her senses and admit the boy was her son. Ten days later, Christine was released from the hospital after the child claiming to be her son confessed. Because of guilt, he admitted to the police that he was in fact Billy Fields, a runaway from Illinois.
However, that wasn't the boy's real name. His name was Arthur Hutchins. Arthur explained that when he saw a picture of Walter and noticed their resemblance, he saw an opportunity. By pretending to be Walter, he would have a one-way ticket to Los Angeles and an increased chance of making it in the movies. In addition, he hoped to meet  western movie star, Tom Mix.
After the story about Arthur Hutchin emerged in the media, Christine Collins was released from the psychiatric ward and filed a false-imprisonment suit against the city. Christine won the lawsuit, and Captain JJ Jones was ordered to pay her $10,800. Although she intended to use the funds to continue her search for her son, the police captain never paid her.
Several months after Walter Collin disappeared, something happened in Wineville, California, that would lead the LAPD to the horrific truth of what happened to him in March 1928. Jessie, Sanford's 19-year-old older sister, visited him on the Wineville ranch in August 1928 out of concern for his welfare. Having noticed something strange about her brother's letters, Jessie decided to check on him in California. When the siblings were alone, Sanford told her he feared for his life. When Gordon was asleep, Jessie learned from her brother that her uncle had murdered four boys.
Upon returning to Canada, Jessie informed the American consul of Gordon's crimes. After hearing Jessie's complaint, the consul wrote a letter to the Los Angeles Police Department about her allegations. Having informed the authorities about her brother's illegal status, Jessie hoped they would make it to the ranch faster.
The police in Los Angeles sent an immigration officer to check on Sanford on August 31, 1928. Gordon was driving down the road with his mother, Sarah Louise, when the officers arrived at the ranch. Sanford was taken into custody by the officers at the farm. At that moment, Sanford's conscience grew heavy, and he told everything to the police.
In his confession, Sanford described Gordon's sexual assault and abuse of him for over two years. Moreover, he told the police how Gordon had kidnapped and sexually assaulted other young boys. He told police that Gordon and his mother, Sarah Louise, killed some of the boys and forced him to murder them as well. A police officer showed Sanford pictures of several missing boys. The officer asked Sanford to identify any of the boys he recognized from Gordon's ranch.
Sanford recognized two missing brothers in the photos. They were Nelson and Lewis Winslow. When Nelson and Lewis Winslow, 12 and 10 years old, were walking home from their parents' yacht club, they encountered Gordon Northcott. The boys were enticed into Gordon's car with promises of seeing his farm's animals. When the brothers arrived at Gordon's ranch in Wineville, they were locked in different chicken coops. After he sexually assaulted and tortured the boys, Gordon forced Sanford to help him kill them with an axe. Shocked, the LAPD called for the immediate arrest of Gordon Northcott and his mother.
Authorities tracked Gordon and Sarah Louise to Canada, where they were extradited to the United States. To protect her son, Sarah Louise confessed to the murder of Walter Collins after she and Gordon were arrested. She wasn't about to let her son go down alone.
Sarah Louise claimed she had visited the ranch from Los Angeles. She was suspicious when Gordon refused to let her near the chicken coop. After making it into the enclosure, she told police Walter Collins was inside sleeping on a cot. His body was battered and bruised, and looked emaciated. After Gordon told Sarah how he abused the boy, Sarah decided they couldn't let him live and turned to the police. According to Sarah's plan, Gordon, Sanford, and she would take turns beating Walter with an axe until he died.
Gordon was interrogated separately from his mother and gave several confessions to the police. Initially, Gordon said he killed five boys, then confessed to killing none, and finally, Gordon said he only murdered one person, "The Mexican boy." Police found the headless body of a Hispanic boy weeks before, and Sanford told the officers how Gordon forced him to burn the decapitated head of one of his victims, who he thought may have been Mexican. Thus, the LAPD charged Gordon with the death of "The Mexican Boy," and the Winslow brothers.
Sarah Louise was indicted for the murder of Walter Collins. In 1940, Sarah Louise Northcott was paroled after serving twelve years of her life sentence. Four years later, she passed away. Gordon Northcott was found guilty and sentenced to death in 1929. As he awaited his execution, he corresponded with Christine Collins. He taunted her in letters saying he would tell her the truth about Walter before his execution, but Gordon never did. He was executed in 1930.
Before his execution, he acted very scared and asked the executioner to pray for him. Sanford was never charged with murder. All parties involved in the investigation believed he killed Gordon's victims under threat of death. Following his arrest, he was sent to a juvenile delinquency school and released two years later. Sanford served in the army during World War II and lived an exemplary lifestyle. He died in 1991.
Having become notorious by what the media called the "Wineville Chicken Coop Murders," Wineville changed its name to Mira Loma.
The number of victims Gordon Northcott may have had is currently unknown. Gordon's lack of honesty prevented him from verifying his victim count. Although Sarah Louise confessed to Walter's murder, Christine Collins hoped he was still alive. A boy came forward to the LAPD five years after Gordon Northcott's execution and told officers he was a survivor. Christine felt hopeful her son Walter could still be alive because she discovered a boy who survived Gordon's torture. Sadly, Christine never found her son.