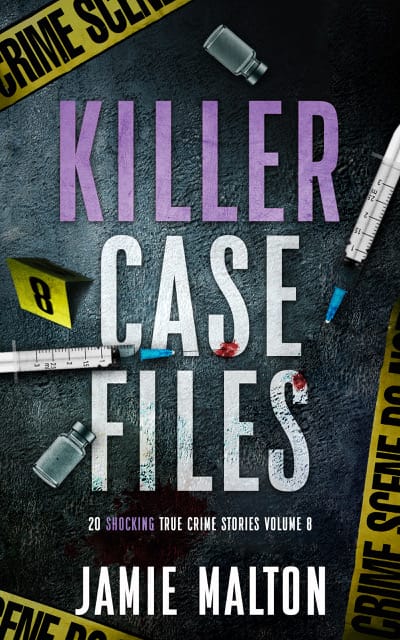 KILLER CASE FILES – VOLUME 8

BONUS CHAPTER
Thanks for being one of my readers!
Jamie
Behind the Screen
"Bianca is much more than those photos. She's much more than her death, and she's much more than a murder case. She's an artist, a sister, a daughter, a friend and her bright light was taken entirely too soon."
Kim Devins, Bianca's Mother
On July 14th, 2019, the small city of Utica, New York, was shocked by the brutal murder of 17-year-old Bianca Devins. The teenager, who was an active member of many online communities, was brutally killed by a 21-year-old man named Brandon Clark.  After the murder, Clark uploaded graphic photos of her body on social media.
Bianca Becomes ESCTY
Bianca was born in Utica, New York, and was affectionately called Bee or Bia by her family. She had two younger sisters, Olivia and Maddy Devins. During her childhood, Bianca faced some challenges that led her to seek therapy at the age of nine. Her main issue at that time was separation anxiety, and because of this, Bianca refused to attend school.
At thirteen, she began showing signs of depression, and after three years, she received a diagnosis of Borderline Personality Disorder. Bianca's behavior changed drastically as she started isolating herself and spending most of her time on social media platforms, including Instagram, 4chan, and Discord. Under the username @escty, Bianca created an Instagram account that initially gained a small following. She loved sharing her art and her thoughts on various topics. However, her popularity soared as she acquired male followers known as "orbiters."
One of her followers, Brandon, caught Bianca's attention, and they connected through Instagram in April 2019. After exchanging messages for some time, they met in person and developed a close friendship.
As time passed, Brandon's fixation on Bianca grew. He started referring to himself as "Bianca's boyfriend" and got a tattoo on his leg of a playground swing which he knew Bianca would like. Some of her art revolved around swings. Despite Bianca's rebuffs and lack of interest in pursuing a romantic relationship, Brandon persisted. However, Bianca was clear in communicating that her focus was on her education, as she planned to pursue psychology in college.
Brandon Clark
Brandon Clark's early life was marked by instability and trauma, which likely had a profound impact on his development. He witnessed frequent episodes of domestic violence as his father repeatedly abused his mother. One particularly harrowing incident occurred when Brandon was just twelve years old, and his father held his mother hostage at knifepoint for ten hours, fueled by suspicions of infidelity.
Brandon's father was sent to jail, leaving him and his mother to fend for themselves. Soon after, Brandon's mother was arrested and subsequently incarcerated on unrelated charges, leaving him in the care of foster parents. It was during his time in foster care that Brandon's obsessive tendencies began to manifest.
Pushing Back
Bianca was worried about the intensity of Brandon's communication with her. He didn't hesitate to declare his love for her and Brandon even gave Bianca drugs to get her to spend time with him.
Following Brandon's confession of his feelings, Bianca distanced herself from him, hoping to create some space between them. But this separation only fueled Brandon's obsession further. He stalked her on social media and obsessively saved her pictures on his phone. Bianca mentioned Brandon's behavior to her friends, but she didn't perceive him as an imminent threat. She told him she wished he would "back off" because she was starting to feel harassed.
Over time, Bianca relented and reconciled with Brandon, out of a sense of guilt and compassion for his emotional distress. Their renewed connection culminated in Brandon's attendance at Bianca's high school graduation in June 2019.
Bianca's mother, Kimberly Devins, met Brandon on multiple occasions and found him to be polite and trustworthy. She allowed Bianca to accompany Brandon to a Nicole Dollanganger concert in Queens just two weeks after graduation.
Neither Bianca nor her mother could have foreseen the tragic outcome of that evening. Bianca never returned home, and her life was cut short, leaving her family in a state of unimaginable grief.
The Concert
On the night of July 13th, Bianca met up with Brandon and another friend Alex, to attend a concert in New York City. Things took a turn for the worse when the couple got into a fight during the concert. Brandon became jealous of a kiss Bianca shared with Alex during the concert.
After the concert, the couple returned to Utica and continued to argue in the car. Clark launched a brutal assault on Bianca with a long knife that he'd kept hidden beneath his seat. Clark sliced her neck with the sharp blade. The injuries proved fatal, and Bianca died in the car.
Clark left Bianca's body in the car, where it lay nearly decapitated. Without any sense of remorse or guilt, he proceeded to build a bonfire and played the song "Test Drive" by Joji.
He then took graphic photos of Bianca's body and posted them to a discord server, along with a message that read: "sorry f–kers, you're going to have to find somebody else to orbit." 
He then called 911 and said, "My name is Brandon, the victim is Bianca Michelle Devins, I'm not going to stay on the phone for long, because I still need to do the suicide part of the murder-suicide."
Brandon was found lying on the ground next to his car with self-inflicted knife wounds, but he was alive. He was taken into custody and charged with second-degree murder.
The news of Bianca's murder spread quickly online, and many of her friends and followers were left reeling in shock and grief. Many of them took to social media to express their condolences and to pay tribute to the teenager. The hashtag #RIPBiancaDevins quickly began trending on Twitter and Instagram, with thousands of people sharing their thoughts and memories of the young woman.
Brandon Clark pleaded guilty to the murder of Bianca Devins and was sentenced to 25 years to life in prison. His first parole eligibility will be in 2044.
Bianca's family and friends set up a memorial fund in her honor, which has raised thousands of dollars for various charitable causes. They also organized a candlelight vigil to honor her memory and to raise awareness about the dangers of online relationships.